Senator Thomas J. Umberg, Fullerton Councilmember Ahmad Zahra, and the City of Fullerton announced the return of Senator Umberg's Biannual Community Health and Resources Fair. At this event, residents will be able to receive free vision exams and glasses, general health screenings, food boxes, benefits renewal assistance, and other healthcare information.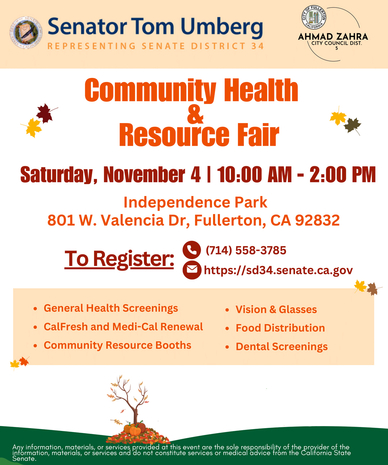 If you are interested in taking advantage of this opportunity, please fill out the form at the bottom of this webpage.

WHO: Office of Senator Thomas J. Umberg; Office of Councilmember Ahmad Zahra; Office of Congressmember Lou Correa; Office of Assemblymember Sharon Quirk-Silva; Office of Supervisor Doug Chaffee; City of Fullerton; Healthy Smiles for Kids of Orange County; Lestonnac Free Clinic; SunTerra/Project Foodbox; Serve the People Community Health Center; ICNA Relief; Vietnamese American Cancer Foundation; Abrazar, Inc.; United Domestic Workers; First5 OC; Orange County Vector and Mosquito Control District; Planned Parenthood of Orange and San Bernardino Counties; Alzheimer's OC; The Braille Institute; CalOptima; PACE; OneCare; Orange County Social Services Agency; OC HealthCare Agency Mental Health Department; Fair Housing Foundation; Fentanyl Solutions; Center for Healthy Neighborhoods; Hope Builders; America On Track; OC Hospice; OC United and many more!
WHAT: Community Health and Resources Fair
WHEN: Saturday November 4, 2023 from 10:00 AM – 2:00 PM
WHERE: Independence Park – 801 W. Valencia Dr., Fullerton, CA 92832
 
(Fillable Form) * = Required for submission