Senator Umberg Invites You to an Insurance Telephone Town Hall
Reminder: Tele-Town Hall Wednesday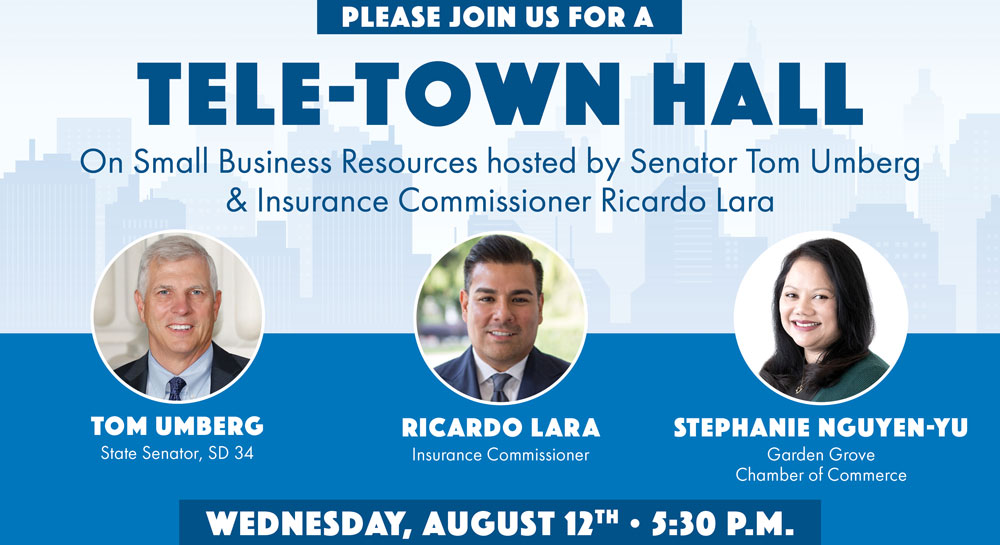 Dear Friends,

Please join my colleagues - California Insurance Commissioner Ricardo Lara and Stephanie Nguyen Yu from the Garden Grove Chamber of Commerce - and me, for a tele-town hall on insurance issues and available resources for small businesses during the COVID-19 pandemic emergency. With many businesses experiencing tremendous economic loss, it is imperative for you to have up to date information on services and resources, including business interception insurance issues. A representative from the U.S. Small Business Administration, Godfrey S. Hinds, will be available to answer questions.
The event will be held on:
Wednesday, August 12th 5:30 p.m. to 6:30 p.m.
Call In: 844-767-5579
Access Code: 4160838
We will do our best to answer all emailed questions during the telephone town hall.  For questions not addressed during the call, you will receive contact information from specialists who may be able to assist you directly.
To join us, please dial in using the following toll free number 844-767-5579 and use access code: 4160838.

Sincerely,

Col. Tom Umberg (Ret.)
Senator, 34th District